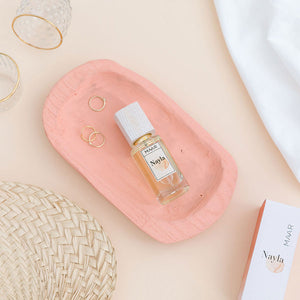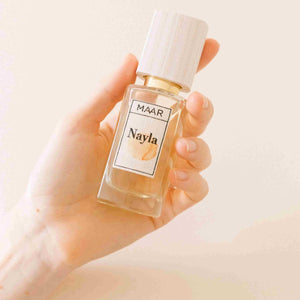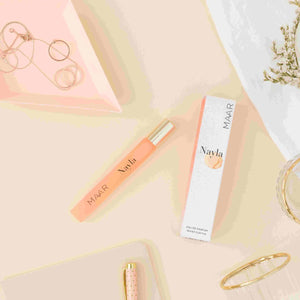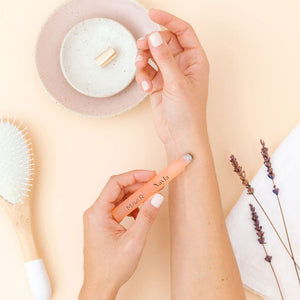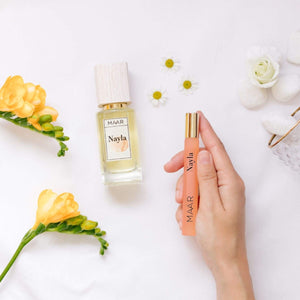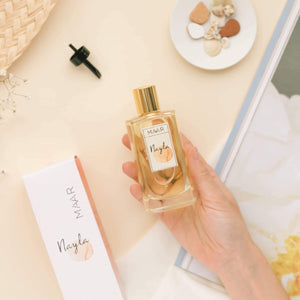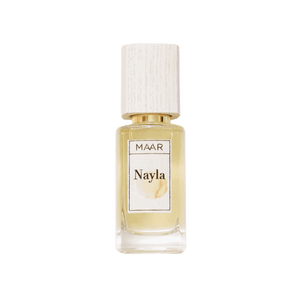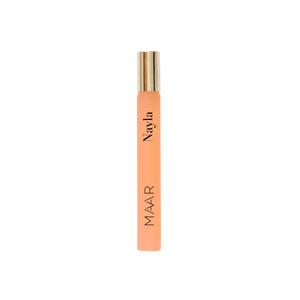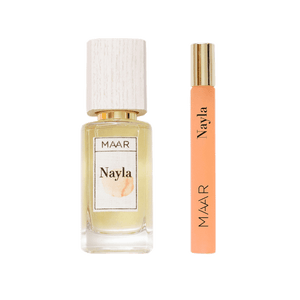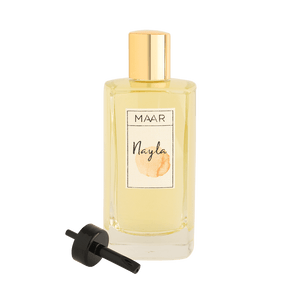 Ingredients
We use: 97% natural ingredients and organic alcohol.
We never use: Stabilizers (BHT) nor colourants.
Type of fragrance: Eau de Parfum
INCIs: Alcohol denat, Parfum (Petitgrain Oil1 , Lemon Oil1 , Bergamot Oil1 , Litsea Cubeba Oil1 , Tangerine Oil1 , Neroli Oil1 , Orange Oil1 , Patchouli Oil1 , Osmanthus Absolute1), Aqua, Limonene2, Linalool2, Citral2, Geraniol2, Citronellol2.
1 Natural essential oil
2 Natural essential oil by-product
Discover the seed-to-jar journey of our ingredients.
How to apply
Apply the fragrance to the pulse points (wrists, neck and inside of the elbows). If you have the 50ml format, you can also apply a pulse on your hair or clothes.
For the fragrance to last longer, hydrate your skin before each application with our Body Lotion.
Packaging
10ml:
- Bottle: Glass with a capacity of 10ml
- Cap: Aluminium
- Roll on ball: Stainless steel
- Roll on holder: Plastic
- Closing label: FSC certifed paper
- Box: FSC certifed paper
- No cellophane
50ml:

- Bottle: Glass with a capacity of 50ml

- Cap: FSC certified ash wood

- Pump: Removable and aluminium

- Front label: Linen fabric

- Closing label: FSC certified paper

- Box: FSC certified paper

- No cellophane

100ml:

- Bottle: Glass with a capacity of 100ml

- Cap: Aluminium
- Front label: Linen

- Closing label: FSC certified paper
- Box: FSC certified paper
- No cellophane
- Funnel: PP Plastic
Refunds
With every 10ml, 50ml or Perfect Match purchase we add a 1 ml sample, so you can try the fragrance on your skin before opening the order. This way, if you do not like it, you can return it.

Nayla's Olfactory Pyramid
Top notes
Lemon
Tangerine
Bergamot
Middle notes
Neroli
Orange blossom
Base notes
Iris
Rose
Vanilla
Family Floral
Soul Neroli
Origin Nabeul, Tunisia
Personality Attractive
Nayla's Soul:
Neroli Oil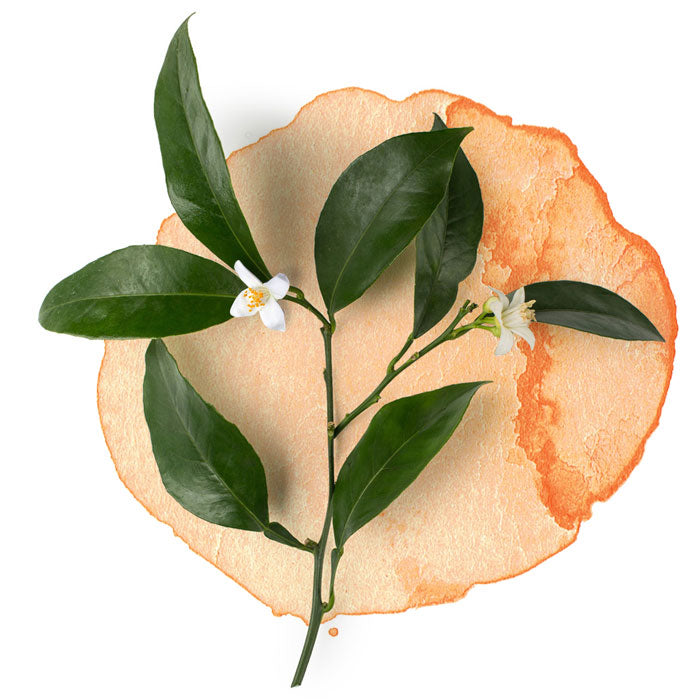 Origin

Bitter orange tree

Where does it grow?

In the region of Nabeul, Tunisia.

Used part

Flower

How is it obtained?

Fresh flowers are steam distilled

Aroma

Citric, slightly bitter, with hints of orange blossom and orange

Did you know?

In perfumery every bitter orange part is used. The skin to create essential oil, the leaves for Petitgrain oil and the white flowers for Neroli and the absolute orange blossom
Our production process
It all starts with the collection of premium ingredients to get their essential oil
Our perfumers mix the essential oils to create the concentrated perfume
We select sustainable packaging components, produced by local suppliers
We mix the concentrated perfume with alcohol and water. We macerate the formula for two weeks and make the filling and packing
Finally, the result!
Your MAAR fragrance
Me encanta
Cuando probé Nayla en tienda me pareció demasiado intensa y no me gustó nada. Seguí paseando y me empezaron a venir oleadas de un olor extraordinario que venía de la zona en la que había aplicado Nayla. Volví a la tienda y me la compré (la más pequeña, para ver qué tal). Resumen: cambia mucho el olor pasado un rato, se vuelve impresionante, sin dejar de ser un olor intenso y atractivo, tal y como pone en la descripción, muy alineado con mi personalidad. Deseando comprarme el formato grande, porque además de encantarme, está triunfando.
No me ha gustado
Pensé que era un aroma más fresco y es demasiado dulzón.
¡Hola!
En estos casos siempre recomendamos probar las muestras de un 1ml primero. Puedes pedirte muestras de 1ml de Mina, Elise y Cleo y ver si te gustan más :)
Gracias,
Inés
Muy bien
Tanto el perfume que pedí como las muestras estupendo muy contenta gracias 😊