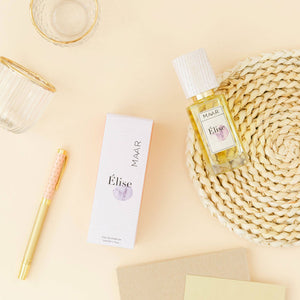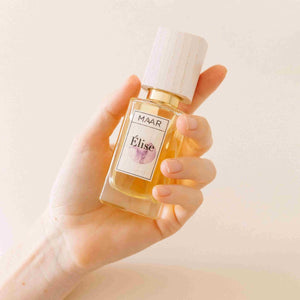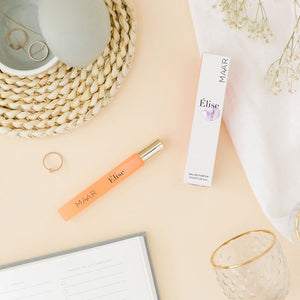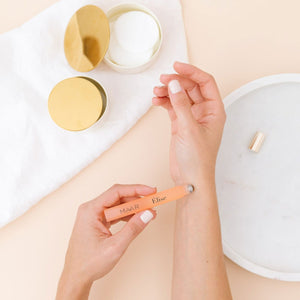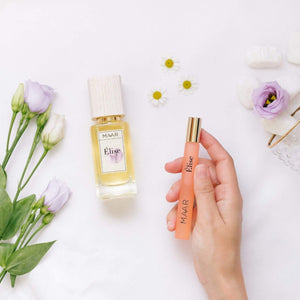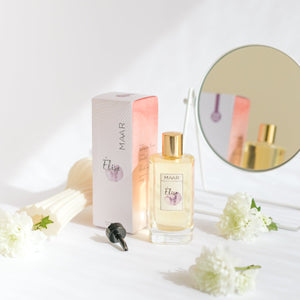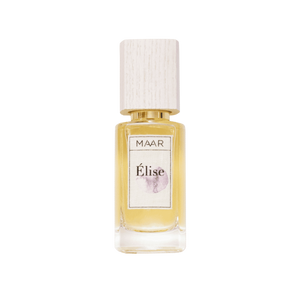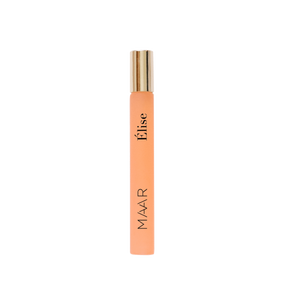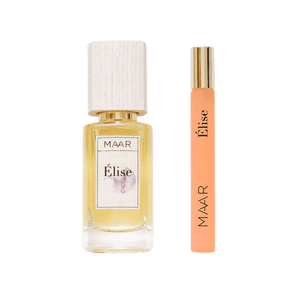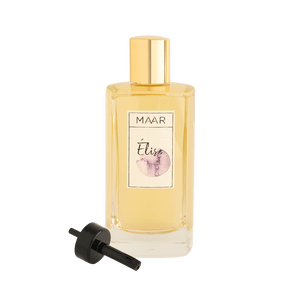 Ingredients
We use: 97% natural ingredients and organic alcohol.
We never use: Stabilizers (BHT) nor colourants
Type of fragrance: Eau de Parfum
INCIs: Alcohol denat, Parfum (Sandalwood Oil1, Cypress Oil1, Cedarwood Oil1, Blackcurrant Extract1, Bergamot Oil1, Benzoin resin1, Patchouli Oil1), Aqua, Linalool2, Citronellol2, Coumarin2, Limonene2, Geraniol2, Eugenol2, Citral2


1 Natural essential oil
2 Natural essential oil by-product
Discover the seed-to-jar journey of our ingredients.


How to apply
Apply the fragrance to the pulse points (wrists, neck and inside of the elbows). If you have the 50ml format, you can also apply a pulse on your hair or clothes.
For the fragrance to last longer, hydrate your skin before each application with our Body Lotion.
Packaging
10ml:
- Bottle: Glass with a capacity of 10ml
- Cap: Aluminium
- Roll on ball: Stainless steel
- Roll on holder: Plastic
- Closing label: FSC certifed paper
- Box: FSC certifed paper
- No cellophane
50ml:

- Bottle: Glass with a capacity of 50ml

- Cap: FSC certified ash wood

- Pump: Removable and aluminium

- Front label: Linen fabric

- Closing label: FSC certified paper

- Box: FSC certified paper

- No cellophane

100ml:

- Bottle: Glass with a capacity of 100ml

- Cap: Aluminium
- Front label: Linen

- Closing label: FSC certified paper
- Box: FSC certified paper
- No cellophane
- Funnel: PP Plastic
Refunds
With every 10ml, 50ml or Perfect Match purchase we add a 1 ml sample, so you can try the fragrance on your skin before opening the order. This way, if you do not like it, you can return it.

Élise's Olfactory Pyramid
Top notes
Rose
Lychee
Blackcurrant
Bergamot
Middle notes
Freesia
Iris
White Jasmine
Lily of the valley
Base notes
Musk
Sandalwood
Family Oriental
Soul Blackcurrant
Origin Burgundy, France
Personality Sassy
Élise's Soul:
Blackcurrant Extract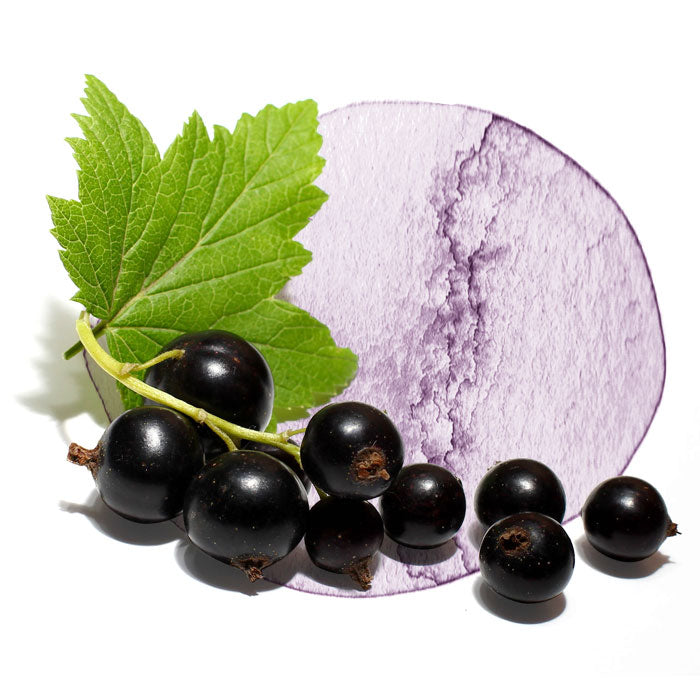 Origin

Cassis or Blackcurrant bush.

Where does it grow?

French region of Burgundy

Used part

Sprouts

How is it obtained?

Blackcurrant buds are boiled in solvent. Then, solvent is removed to get Blackcurrant extract

Aroma

Woody, fruity and spicy, with a fresh undertone

Did you know?

Apart from buds, Blackcurrant leaves are used in teas, hearts in liqueurs and berries in jams, juices and liqueurs as well
Our production process
It all starts with the collection of premium ingredients to get their essential oil
Our perfumers mix the essential oils to create the concentrated perfume
We select sustainable packaging components, produced by local suppliers
We mix the concentrated perfume with alcohol and water. We macerate the formula for two weeks and make the filling and packing
Finally, the result!
Your MAAR fragrance
Perfume delicioso en la piel
Quería un perfume dulce y oriental y Élise es justo eso, huele delicioso en la piel y la duración es buena. Volveré a comprar
No entiendo que una marca española lo ponga todo en inglés!!!
¡Muchas gracias por valorar Élise con 5 estrellas! Nuestras chicas MAAR están por toda Europa y para facilitar que puedan entender toda la información elegimos el Inglés ya que es el leguaje universal. De todas formas, también puedes encontrar toda la información de los perfumes, cosmética, procesos y fabricación en Castellano. Si te queda alguna duda no dudes en contactar con nosotras que estaremos encantadas en ayudarte ¡Un saludo!
Superada expectativas
Soy complicada para los olores, además según que aromas me activan la migraña, compré el formato de viaje por si acaso no me gustaba, la verdad que huele muy bien, pensaba que sería más dulce, y no, así que genial porque muy dulces no me gustan, si es cierto que no dura mucho si aplicas solo el perfume, pero lavándote las manos antes con el jabón y poniéndote la crema hidratante aguanta la mañana, luego al mediodía has de volver a ponerte. Repetiré con el formato más grande.