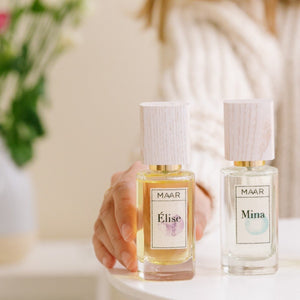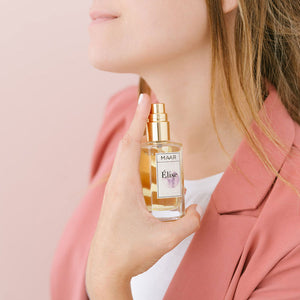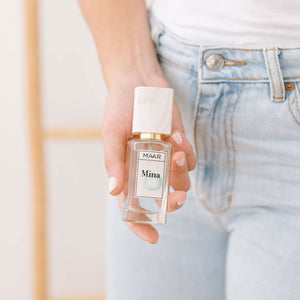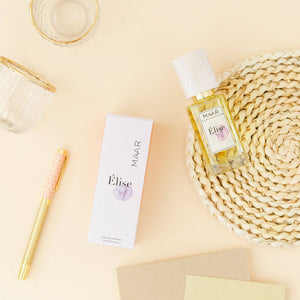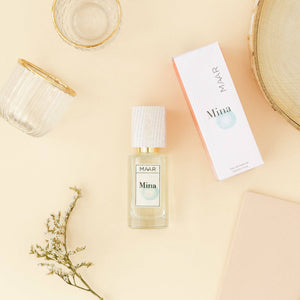 Ingredients
We use: 97% natural ingredients and organic alcohol.
We never use: Stabilizers (BHT) nor colourants.
Type of fragrance: Eau de Parfum

INCIs Mina: Alcohol denat, Parfum (Blackcurrant Extract1, Bigarade Oil1, Petitgrain Oil1, Lemon Oil1, Bergamot Oil1, Litsea Cubeba Oil1, Lime Oil1, Mint Oil1, Cedarwood Oil1, Cardamom Oil1, Tangerin Oil1, Neroli Oil1, Sandalwood1, Guaiac Oil1, Orange Oil1), Aqua, Limonene2, Linalool2, Geraniol2, Citral2, Coumaril2, Citronellol2, Farnesol2.
INCIs Élise: Alcohol denat, Parfum (Sandalwood Oil1, Cypress Oil1, Cedarwood Oil1, Blackcurrant Extract1, Bergamot Oil1, Benzoin resin1, Patchouli Oil1), Aqua, Linalool2, Citronellol2, Coumarin2, Limonene2, Geraniol2, Eugenol2, Citral2

1 Natural essential oil
2 Natural essential oil by-product
Discover the seed-to-jar journey of our ingredients.
How to apply
Apply the fragrance to the pulse points (wrists, neck and inside of the elbows), either separately or by combining the fragrances to create your own scent. You can also apply a pulse on your hair or clothes.
If you dare to combine fragrances with the Mix and Match technique, apply first the most intense essence (Élise) and then the freshest (Mina). In this way, the coolest will be noticed right at the beginning and the most intense will appear later.
For the fragrance to last you longer, hydrate your skin before each application with our Body Lotion.
Packaging
- Bottle: Glass, with a capacity of 50m

- Cap: FSC certified ash wood
- Pump: Removable and aluminium

- Front label: Linen fabric

- Closing label: FSC certified paper
- Box: FSC certified paper
- No cellophane
Refunds
You will received a 1ml sample of every fragrance so you can try them on your skin before opening the order. This way, if you do not like one of them, you can return it.

Élise's Olfactory Pyramid
Top notes
Rose
Lychee
Blackcurrant
Bergamot
Middle notes
Freesia
Iris
White Jasmine
Lily of the valley
Base notes
Musk
Sandalwood
Mina's Olfactory Pyramid
Top notes
Lemon
Cardamom
Bitter orange
Tangerine
Middle notes
Neroli
Bergamot
Tea leaves
Cedarwood
Base notes
Sandalwood
Tonka Bean
Our production process
It all starts with the collection of premium ingredients to get their essential oil
Our perfumers mix the essential oils to create the concentrated perfume
We select sustainable packaging components, produced by local suppliers
We mix the concentrated perfume with alcohol and water. We macerate the formula for two weeks and make the filling and packing
Finally, the result!
Your MAAR fragrance
Estupendas
Me encantan vuestras fragancias, es la segunda que pido de Elise, esta vez he decidido probarla junto con Mina. Seguiré probando el resto, seguro!!
¡Muchas gracias por tu puntuación, Maria!
Maravilloso
No podría estar más contenta. Aromas sutiles y delicados. Cada uno para un momento del día. Te envuelven y te elevan el ánimo. Repetiré seguro. Muy fan de MAAR!
¡Qué maravilla, Olga! Nos alegramos mucho de que hayas encontrado dos fragancias que se implementen tan bien en tu día a día. ¿Has probado de perfumarte con ambas a la vez? La mezcla es un aroma único que seguro que te enamorará :)